10 High-Impact Instagram Marketing Tips For Small Businesses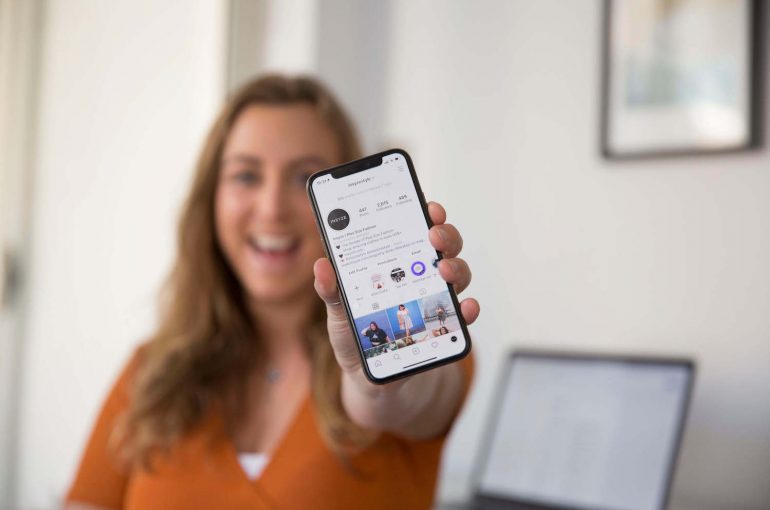 You've seen the success stories of other businesses using Instagram marketing to catapult their brand awareness and sales, but although it might seem like posting a great picture or sending products to an influencer is the secret sauce, unfortunately there's a lot more to it.

Back in 2013 and 2014, Instagram marketing was actually super easy, basically because when influential people with high followings posted about your product, they mainly did so on a gifting basis. Followers also didn't necessarily realise they were being advertised to, because Instagram as a marketing channel wasn't a thing.

On top of this, posts in the feed were chronological. So you could post content 10 x a day or at peak times and be guaranteed great engagement and new followers.

But this was all before the number of active users on Instagram hit 1 billion people.

Now your business is having to compete with the noise of 100 million photos being uploaded every day – yes every day! Not only that, but there's 25 million active business accounts all vying for customer attention with posts that want to sell their products and services. It's a busy space, so no wonder engagement for brands and businesses is dropping faster than your iPhone's battery life.

If you're wondering why your engagement is suffering or you're just not getting that great reach anymore, then it's not just you. Instagram is becoming a more competitive space for marketing, but that's not to say that Instagram marketing doesn't work anymore – quite the opposite.

In fact, 80% of Instagram users follow a business on Instagram and it's one of the best channels to form authentic connections with your audience and cultivate long-lasting brand advocates.

Here are 10 Instagram Marketing Tips for Small Businesses in 2019
Post Quality, Not Quantity
Tag Location for increased reach
Partner with other small businesses
Use giveaways to gain emails
Don't buy followers, likes or views
Make sure every post has a Call To Action
Instagram Stories needs its own strategy
Also, create a DM strategy!
Track with UTM links if you're ecommerce. Track with in-store incentives if you're a brick and mortar
Leverage User-Generated Content
Tip 1: Post Quality – not Quantity
It's an age-old saying that just seems to apply to all facets in life! Quality over quantity is especially true in Instagram marketing for your business, for so many reasons.
So what do we mean by 'quality content'?

Quality content is high resolution images, professional videos or on-brand graphics that have been put together for a purpose. Quality content considers your overall marketing and brand strategy and isn't 'posting for the sake of posting'.

Importantly, the caption and message behind what you post is where 50% of that quality should come from and it's where the best performing posts truly capture your audience's attention.

Tip 2: Tag Location For Increased Reach
Thanks to Instagram Insights on your page's Business account, you can now see where and how people are finding your posts. Hashtags and Home feed are obvious sources of eyes on your post, but did you know that tagging location also works an absolute treat for new discovery?

If your brand has a physical location, tag your shop, the city you're based in, the location your curated content is based or country.

If you're an Ecommerce brand working with influencers, tag their location, the photo location or a city you're hoping to target more of.

Tip 3: Partner with other small businesses
A great way to increase your reach and brand awareness is to partner with another small business in your niche that isn't a direct competitor and run a giveaway together. By partnering, you can double the prize incentive and increase the amount of eyes on your brand.

Be wary of loop giveaways with too many businesses however. Although in theory these work great, they can be seen as spammy tactics if all the businesses involved aren't closely related and you can expect to lose 10-20% of your newly gained followers after giveaways of this nature.

Tip 4: Use Instagram giveaways to gain emails
As great as giveaways are for increasing your followers on Instagram, that number can be pretty meaningless. Instagram is a great marketing channel but it shouldn't be the be-all-and-end-all of your campaigns. If Instagram shut down tomorrow or even just crashed for a while, you'd be at a major loss if this is where you concentrate your entire marketing efforts.

So why not leverage your Instagram marketing to gain email subscribers. Not everyone will be at the stage in their buyer's journey where they're ready to purchase from you after seeing you a couple of times on the gram, but by inviting them to subscribe to your email newsletters you can nurture them with more in-depth content and links to your brand. You also own your email list, so matter what happens to Instagram you know you've got that to fall back on.

Tip 5: Don't buy followers, likes or views
This tip should be in bold and underlined repeatedly! As tempting as it might be to buy followers so you hit the magic 10k on Instagram or likes when your engagement is down; do not do it!

Spammy practices like this are immediately flagged by Instagram's algorithm and your account will suffer as a result.

Tip 6: Make sure every post has a Call To Action
Going hand in hand with ensuring every post is quality, you absolutely need to include a Call-to-action on every post. This doesn't mean you have to use 'buy this product' or come across as overly salesy, not at all in fact.

Here are some great CTAs to include on your Instagram posts:

Double tap if you like/want to try this
Tap the link in bio to read the blog/ watch the video/ read more
Comment your favourite/ your thoughts / yes or no …
Tag a friend who'd laugh at this/love this/be inspired by this
DM this to your bestie (using the send feature)Save this post for inspo later
Tip 7: Instagram Stories needs its own strategy
Instagram Stories is a marketing channel within a marketing channel and should not be ignored! In fact, Stories can keep your brand top of mind by maintaining visibility in your follower's feeds and allow you to connect with your audience in a fun and more personal way.

Here's the real crunch: if you watch a brand's story, engage with their polls or reply to them via direct message, you're more likely to see more of their posts in at the top of your feed.

So you can use Instagram Stories to beat the algorithm!

Tip 8: Also, create a DM strategy!
Just like interacting with Instagram Stories boosts your brand's visibility in your followers' feeds, DMs aka Direct Messages can have the same impact.

This is because interacting via DM shows the algorithm that your followers are having a meaningful connection with you brand and indicates that they'd probably want to see more of you in their feed.

Here's a tip within a tip: When DMing your followers or replying to their tags of you in their stories, make sure you write a comment back to them – not just a Like or single emoji.

We have found that sparking a conversation across multiple lines is generating visibility uplift for brands in these followers feeds.

E.g. Don't just write back '<3'

Write four seperate lines:
Wow, you look great
This suits you so much
Thanks for sharing
<3

You can setup 'Quick Replies' in your DMs to make this process of writing back more time efficient! Need some help with that? Fill in the contact form for my step-by-step guide.

Tip 9: Track with UTM links if you're ecommerce. Track with in-store incentives if you're brick and mortar
Possibly one of the most important things you can do with Instagram marketing is measuring the effectiveness of your efforts.

Whether you're an ecommerce store or using Instagram to drive footfall to your shop or business, then you need to have the right metrics to measure the efficacy of your campaigns.

UTM links are a great way to track clicks and purchases through Google Analytics and can be specific to campaigns or for BAU content.

Tip 10: Leverage User-Generated Content
As a small business, i'm sure you're reading this thinking "great, this all sounds good in theory but how am I going to have time to implement all of this."

Obviously, this is where we can step in to help you with strategy and management, but a quickfire way to save time whilst benefiting from high-impact marketing is leveraging user generated content!

In layman's term this is reposting your customer's posts on Instagram and Instagram stories and encouraging them to post about you. Not only do you get a recommendation about you on their account and visibility to their followers, but you also get a piece of content to repost on your feed or Stories. Win, Win!

---
Need more Instagram marketing help?
Hopefully this post has inspired you to level up the Instagram marketing for you small business, but in case it's left you feeling more overwhelmed than overly inspired – then why not reach out to our team and see how we can help you.

We specialise in small business Instagram marketing and SEO, with budgets to suit every business and the expertise to generate growth, leads and an amazing brand experience for your audience. Contact me today!