Which Type Of Digital Marketing Is Right For You?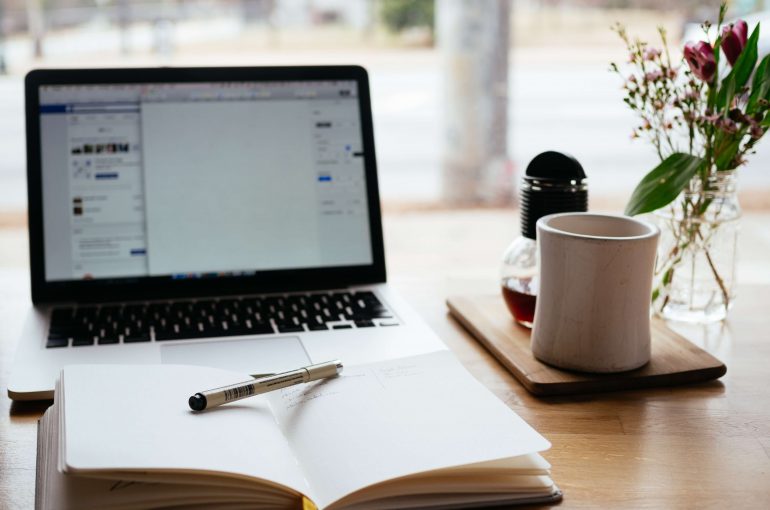 You don't need me to tell you that your business needs to have an online presence with digital marketing in 2019. Nope, you definitely don't need persuading that with approximately 87% of Australians using the internet in 2018, it's therefore essential that your business is visible online in order to reach your target customers.
But digital marketing is such a broad umbrella term, isn't it. What does digital marketing mean and what types of digital marketing should your business do?
If you don't know your SEM from your SEO, then this post is for you!
Let me dive into the different types of digital marketing methods and strategies you can do in 2019, and I'll simplify the jargon right here.
There are 10 types of Digital Marketing you can do in 2019:
SEO (Search Engine Optimisation)
SEM (Search Engine Marketing aka PPC)
Organic Social Media Marketing
Paid Social
Influencer Marketing
Affiliate Marketing
Programmatic advertising
Viral Loops
Email Marketing
Inbound Marketing
---
1. SEO
Search engine optimisation (SEO) is the process of making your website or business rank as high up on Google (or other search engines such as Bing – but not really, mainly Google) as possible.
SEO used to be the wild west, but since Google's couple of clever algorithm updates, all the cowboys have been driven out of town and now only legitimately good content and websites are able to rise to the top of the search results (otherwise referred to as SERPS – Search Engine Results Pages).
Whenever a user makes a search in Google, they input a Keyword to do so. A keyword is something like 'White Dress' or 'Plumber' – Google then shows them the most relevant results it believes will help the user most. In a search for a plumber, that means Google is most likely to show you results from Plumbers in your area.
The art of SEO is a mix of technical on-site optimisations, creating quality content and building backlinks from high quality domains.
When you're nailing SEO, you can expect a high proportion of your traffic to come from organic search results – this is great news for your business as users then to trust organic results more than ads.
The Pros of SEO
Organic results tend to be quality traffic (i.e people actively searching for your product or service with high purchase intent)
You don't have to pay for ads to get in front of your audience
SEO gets more clicks than PPC; 71.33% in fact.
Organic search results are more trusted than ads.
SEO works in hand with PR, creating brand awareness for your business from trusted publishers and influencers online.
The Cons of SEO
SEO strategies and results take a few months (6-9 months on average) to start working. This is because Google is learning about the site over time.
It's not as clear cut as ads. You can't know that if you spend X you'll get Y or plan to scale
SEO is not 'free' to implement, especially if you're working with influencers and publications on backlink or content campaigns. It can take time to see ROI.
---
2. SEM
SEM – which stands for Search Engine Marketing or more commonly referred to as PPC are paid ads on search engines such as Google, Bing and Yahoo.
Those results you see at the top and bottom of your Google search that have a little box with [AD] discreetly tucked into them are indeed, Ads.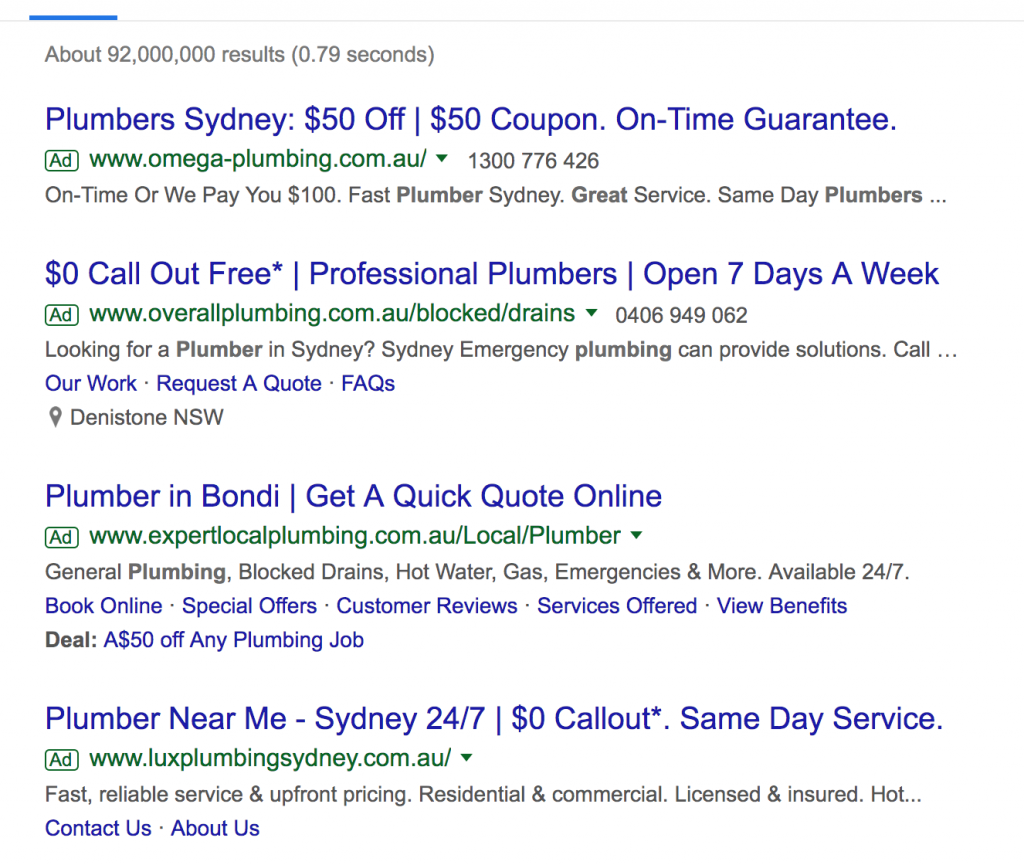 With SEM, the search engine will charge you a predetermined amount to display your ad on the search results pages for specific keywords and phrases that you're interested in targeting.
PPC is a common type of SEM, which stands for 'Pay Per Click' – essentially this does exactly what it says on the tin- you pay for each time someone clicks on your ad.
Depending on your business, you might want to set up other types of SEM conversions. If for example, you want people to book your services over the phone, then you'd select a CPA method (Cost Per Acquisition).
The Pros of SEM
PPC/SEM can give you an instant boost of traffic to your website
You only pay for when someone clicks on your ad
Google Ads appear at the top of every search
Display Network and Google Shopping can be highly effective for re-marketing.
The Cons of SEM
You are competing with your competitors who are also using Google Ads, which means your campaigns can quickly become very expensive.
As soon as you stop putting money into SEM, your visitors will immediately drop. You have to pay for every click you get.
You may be missing key prospects who use ad blocking software on their browsers. Relying on SEM alone is not enough for a sustainable digital marketing strategy.
---
3. Organic Social Media Marketing
When I say 'organic', I don't mean social media that's harvested without pesticides.
Organic social is what you'll be used to with your personal accounts. You post a pic, or a status; your friends see it, and engage – without costing you a single cent.
Growing your organic social reach is arguably one of the best things you can do for your brand on social media and as part of your digital marketing strategy because it not only provides you with 'free' leads and sales, but is also the way you can build your brand equity online.
Through meaningful conversations and aspirational posts, you can inspire and educate your audience with your social media feed. When you add value for them in this way, they are more likely to follow you and become loyal to your brand over time.
Depending on your business and industry, you can build your organic social media campaigns on Instagram, Linkedin, Facebook Groups, Twitter and Pinterest. The platforms to focus on depend on where your audience is hanging out!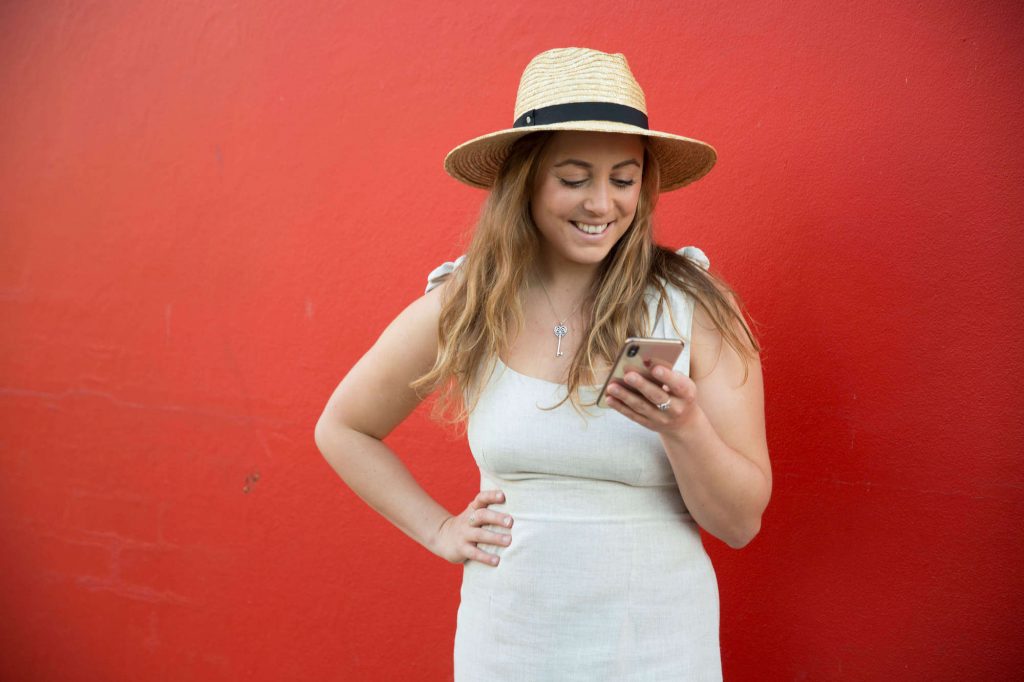 Pros of Organic Social
It's (kind of) free – in the sense that you don't pay to play on these platforms
You can build an epic brand and cult following
You'll gain extremely valuable insights from listening to your customers on social media
You can form genuine relationships with your audience and inspire them to become brand advocates
Cons of Organic Social
You're a slave to the ever-changing algorithms.
Creating content is a never-ending cycle and it can be very time consuming.
You can't guarantee results
---
4. Paid Social
Another one that does what it say on the tin. Paid social is advertising on social media and paying for the type of result you want, whether that's clicks to your website, views of your videos or generating leads for email addresses.
Facebook Ads are the most common and popular type of paid social, but you can also advertise on Linkedin, Twitter, Pinterest and Youtube.
Pros of Paid Social
Scale instantly and see results fast
Set budgets and know exactly what you'll be spending
Forecast leads and sales
Amazingly detailed targeting so you can reach your perfect audience
Cons of Paid Social
Evermore competitive and expensive
Temporary boosts to traffic and sales (when the ads are switched off, those leads stop coming!)
Needs constant monitoring and optimisations
Ads managers can be tricky to use if you're new to their dashboards.
---
5. Influencer Marketing
Unless you've been living under a digital rock, there's no way you haven't heard about the power of influencer marketing.
Influencer marketing harnesses the social influence of trusted authority figures in a niche that have a sizeable social media following.
Over the last five years, brands have collaborated with social media influencers across various social media channels to generate awareness. It can be such an effective and popular strategy that influencer marketing has grown from an ancillary marketing tactic to a $5-10 billion dollar industry.
An influencer could be a fashion blogger with a big Instagram following, or a thought leader accountant on LinkedIn – what matters for your business is that you're working with influencers who will drive positive brand associations with your business that hopefully lead to sales.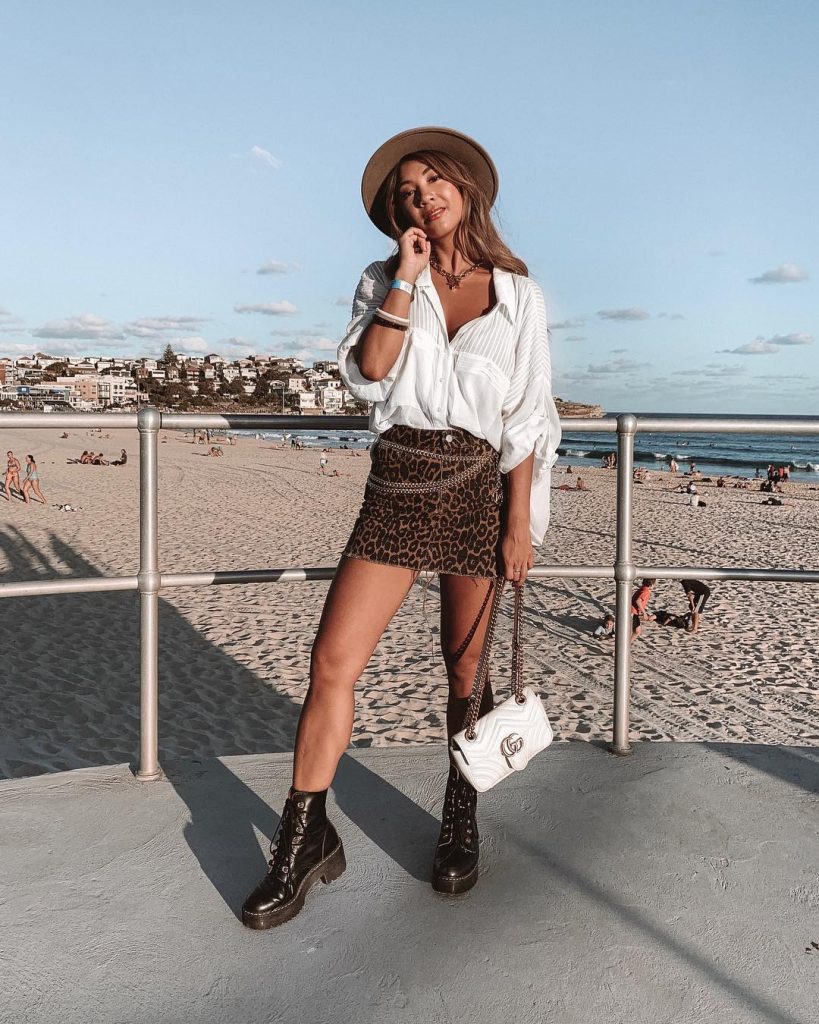 Pros of Influencer Marketing
Huge brand awareness potential
You get specific content creation and amplification in one!
Can deliver a better ROI than other paid advertising strategies
Boosts your brand's reputation to your target audience
Opportunity to drive leads and sales
Cons of Influencer Marketing
You'll need to do some serious maths and make a calculated decision on who to work with.
Some influencers buy their followers and inflate their reach
Working with Influencers that have large followings DOES NOT guarantee sales. You can make x10 ROI or – 10
You need to have TIGHT contracts in place before entering any partnership.
---
6. Affiliate Marketing
The definition of affiliate marketing kind of depends on where in the affiliate chain you're sitting.
As a brand, you are an advertiser and use affiliates (aka publishers) to feature links to your products on their websites. When you make a sale from their link, they earn a commission.
You can sign up to various platforms that offer all the logistics of affiliate marketing. AWIN and CJ Affiliate are two examples of these however then can be a big cost to brands.
Pros of Affiliate Marketing
Only pay commission when you get a sale
Can work for both products and services
It's a great way to add another revenue stream for your online sales
Cons of Affiliate Marketing
Unless you're signed up to an Affiliate Partner Network, working out commissions can be tedious
Affiliate Partner Networks can be expensive to join
Some Affiliates may cookie stuff or send false leads
---
7. Programmatic Advertising
Programmatic is a type of automated digital advertising whereby you pay per impression for a digital ad space.
Confused? It can be a bit of a strange thing to wrap your head around!
I'm sure you will have seen the ads that appear on the Daily Mail online or other news sites. These tend to be programmatic ads and in my opinion are extremely annoying and disruptive for a user's online experience.
That being said, programmatic is big business and many larger brands pay huge sums to get these coveted spots on major publications.
Pros of Programmatic Advertising
As the system is entirely automated, programmatic advertising purchases specific digital advertising space in real time.
You can choose to target customers based on specific factors such as buying patterns, browsing habits, brand loyalty and even choice of mobile device.
Cons of Programmatic Advertising
As an outbound form of marketing, Programmatic can be disruptive and annoying for consumers.
Many people now have ad blockers specifically to block these types of ads
You pay per impression, which doesn't guarantee anything in terms of clicks or sales for your business.
---
8. Viral Loops
Viral marketing is not a new phenomenon, however the digital space has increased the speed and efficacy of how a viral marketing campaign can spread.
In it's simplest form a Viral Loop is term used for growing your product via referrals and word-of-mouth marketing.
For example:
A person buys your product or service –> they tell their friend –> the friend uses the product/service –> they tell another friend who uses the product –> and the cycle repeats.
This has to be one of my favourite forms of marketing because it is SO effective for conversions and can get you heaps of FREE customers through word of mouth!
Good word of mouth is without a doubt the best type of marketing you can get, so I believe it's essential to integrate a viral loop strategy into your overall digital marketing plan.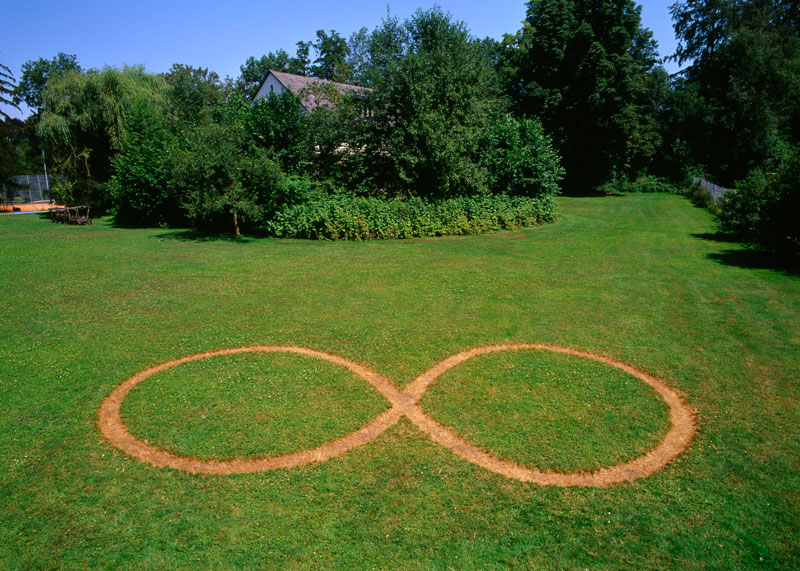 Pros of Viral Loops
Spreads the word about your brand extremely effectively
Lots of free traffic and sales when done correctly
Garner lots of emails from target customers and their friends
Cons of Viral Loops
No guarantee of numbers achieved
Needs careful planning in order to incentivise or remind customers to talk about you.
---
9. Email Marketing
There's a lot to be said about email marketing, especially as i'm sure you receive tons of emails from brands every day which can drive you a little nuts!
Even if you stick to your guns and only send an email blast once a month, or you craft targeted campaigns that flow your leads through a well-designed customer on-boarding journey; email marketing is definitely here to stay.
In fact, building your email list of contacts and owning your own customer data is SUPER important in 2019. Why?
Because it's the one source of data that you 100% OWN yourself.
If Facebook went down or Instagram bombed and you solely relied on reaching your audience and potential customers through these channel, then in these circumstances your business would be screwed!
But email allows you to own your customer data and send valuable information and offers to your audience on your terms.
Pros of Email Marketing
It's more affordable than ads!
You can track your marketing efforts with open and click through rates
Email delivers 40 x the ROI than paid social ads (according to Campaign Monitor)
You own your customer data and have records for them no matter what happens to social media platforms in the future (just make sure to do back ups regularly!)
Cons of Email Marketing
Your emails could end up in Spam folders and never be seen
If you email too frequently or with crappy offers, you could put your customers off
The bigger your list grows, the more you have to pay to send out campaigns
---
10. Inbound Marketing
Although the name of this last but not least digital marketing type is not intuitive, it's one of the best digital marketing strategies you can adopt for your business.
In contrast to programmatic ads, Inbound marketing attracts your audience with helpful content and useful information that they are actively searching for.
Inbound Marketing allows you to build an authority voice within your industry and is all about creating quality content, attention, engagement, trust and satisfaction.
With an Inbound Marketing philosophy, you put your customer's needs and pain points first; creating marketing strategies that seek to provide ways of solving those pain points.
Pros of Inbound Marketing
Inbound marketing can be 1/3 of the cost of traditional outbound marketing and advertising strategies
It's an organic, long-lasting method of audience attraction
You build trust with your audience and become an authority voice
Cons of Inbound Marketing
An Inbound marketing strategy can be time-consuming to execute on.
You need to create lots of high quality content.
Like any organic method, there's no guarantee of numbers of leads.
---
So there you have it! A full overview of the different types of digital marketing strategies you can implement for your business. Remember, none of these work entirely independently of each other and a robust marketing strategy will incorporate a good mix of the above.
Looking for marketing help or want a strategy template? Contact me today!